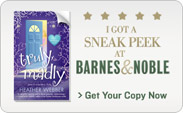 Truly, Madly is the first in a promised series of books about Lucy Valentine, by Heather Webber; hopefully, it will not be the last.
Lucy's family owns Valentine, Inc., a matchmaking business in Boston. The thing is, the family doesn't so much match make as use their love-related physic ability to find the perfect love matches. Unfortunately for Lucy, a lightening strike when she was 14 zapped the ability to make matches, but left her with the ability to find lost objects.
When Lucy's father suffers a minor heart attack, Lucy gets roped into working at Valentine, Inc. While meeting with her first client she gets a physic vision of a dead body and sets out to solve the mystery with her hunky upstairs neighbor.
Truly, Madly is a quick read. It is a cozy mystery with a physic theme and the characters are nice people who are a little bit flawed. So basically, they are like all the rest of us mortals.