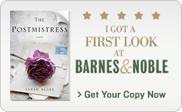 I don't know who is responsible for choosing the First Look Book Club books at Barnes and Noble, but my suggestion is to steal their reading list and buy every book.
The Postmistress is an outstanding story that transports the reader back to 1940, the time before WWII started for the United States, but England is being bombed on an almost daily basis. It is the story of love, loss, and survival told through the eyes of a journalist, a doctor's wife, and the Postmistress of a small Cape Cod town.
Frankie Bard is a journalist on assignment in England with Edward R. Murrow during the Blitz. Frankie sees what is happening to the Jewish people and wants desperately to get the American people involved.
Emma is the doctor's wife. Newly married she moves to his home town and struggles to find her place.
Iris James is the postmaster. She is quite clear on the fact that she is the postmaster, because the post office does not have the position of postmistress. To me, this is the perfect description of Iris a by-the-rules, unbending, strict spinster who one day does not deliver a letter.
Sarah Blake has written an amazing war novel. From the beautiful cover, to the last word, I was enthralled.