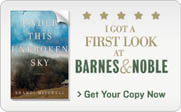 is the first novel by Canadian film maker and screenwriter, Shandi Mitchell. It is set in Western Canada in 1937, is one of the most amazing books I have ever read. I could not put it down.
Under This Unbroken Sky
is the story of Theo and Maria Mykolayeko and their children. They are a hard-working family who immigrates to Canada in the 1930s in order to farm and be free from Stalin.
About three years after they arrive, Theo is arrested for stealing his own wheat and sent to prison for two years. Maria is left to bargain with the constable for the wheat, cart, and horse, the only thing the family has left after the farm has been foreclosed upon. She then moves her five young children to the farm of her sister-in-law, Anna, where Maria and the children (including Anna's two) work to survive until Theo is released.
From the Barnes and Noble website, this is page one.
There is a black-and-white photograph of a family: a man, woman, and five children. Scrawled on the back, in tight archaic script, are the words Willow Creek, Alberta, 1933. This will be their only photograph together.

They are posed in front of a hand-hewn log granary. The adults are seated on wooden chairs, centered to frame. They are dressed in their church best.

The man, his hair clipped short, wears a white, high-collared, pressed shirt, tightly knotted tie, a dark woolen suit, and broken-in work boots. He looks like a tall man. Large hands rest on his knees. His legs are crossed.

The woman wears a dark, modest knee-length dress and low-heeled shoes with sturdy ankle straps. No stockings. On her lap is a baby, a white blur squirming to escape the woman's strong hold. He is round and fat, in stark contrast to the other thin forms.

Three sisters ordered in ascending age are interspersed between their parents. On the far end stands the eldest boy. He is ramrod-straight. Chin up. Though they all wear summer clothes, they are standing in four inches of snow.

They stare straight ahead, their eyes lost in shadows. Expressionless. Arms rigidly pressed against their sides. Holding their breath as the photographer counts: one hundred and one, one hundred and two, one hundred and three . . .

Within three years, this farm will be foreclosed. Two years later, one will die. Two others, of whom there is no photograph, will be murdered.

But this day, in the moment right after the shutter clicks shut, this family takes a deep breath and smiles.

I was fortunate enough to receive a copy of this enthralling book through the Barnes and Noble First Look on-line book club. Unfortunately, I was so enthralled by the story that I couldn't put the book down until I read the last page. I say unfortunately, because the First Look discussions add so much to the reading of a novel.
In
Under This Unbroken Sky
Shandi Mitchell makes you root for the family and ache for them when things don't go their way. Because I was with the family through heart ache, hunger, hard work, and love the members of the Mykolayenko will stay with me for a long time. This is a novel that I will read again and recommend to others.