The newest selection for the Barnes and Noble First Look Book Club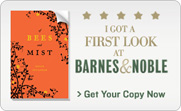 In his first novel, Erick Setiawan casts a spell over the reader with words and descriptions that draw you into the story and won't allow you to forget the people you meet. Although it took me a couple of chapters to be drawn in, I soon became enthralled with the characters and their lives.
This magical novel tells the story of a young woman and follows her as she learns to deal with the negativity and deception that surround her. It is the story of two very different families who are joined through marriage and how they really aren't that different in the end.
This book is one that I would recommend to imaginative readers who likes to escape from the reality of daily life.